Now that Andrew Sullivan has retired... [Amish]
(ed.
OK, I should probably just re-name this blog to 'Musings of Amish' given all his posts lately... but I'm not complaining, they're good. :)
)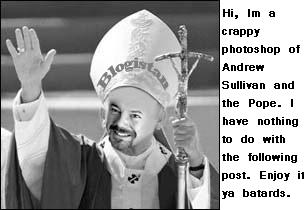 How Andrew Sullivan will Spend His Retirement:

5)Spend more time writing his book "Lincoln the Great Tailsplitter" or "Every Famous Person in History was Gay-Except for Hitler"
4)Needs more time to formulate new positions on Iraq.
3)Needs time to count all of the money he got from his last pledge drive. In a related story I'm going to quite posting a little early so i can go sell my blood. I will bring you back some cookies and juice if anybody wants some.
2)Not get married- THANKS AGAIN GEORGE BUSH!
1)Devote himself to the things that really matter to him. Buggery mainly.